2009/07/15 Wednesday
One of Academia Language School's many weekly activities includes a trip on the Na Hoku II catamaran. It launches from Waikiki beach and travels off the southern shores of Oahu. Students are treated to a two hour trip with spectacular views of Waikiki and the famous Diamond Head landmark. A bartender is aboard the catamaran, serving all-you-can-drink cocktails and beverages throughout the trip.
When the catamaran reaches the clear, blue waters offshore, they stop and let you swim off the side of the catamaran. Students say it's like swimming in the middle of the ocean with beautiful views of Waikiki in front of them and the endless ocean in back. The water is usually very cool, refreshing, and calm. So don't forget to bring your swimsuit if you ever join us on one of our Na Hoku II trips in Waikiki.


The trip costs $25 and includes all the beverages you can drink. This activity is highly recommended by all the students and staff who have experienced it. It also remains one of the most anticipated Academia activities.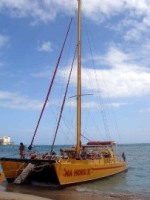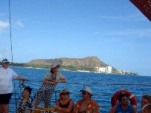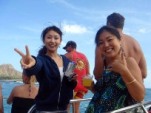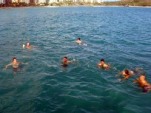 | https://www.plus-hawaii.com/blog/academia/index.php?e=16 |
|
Activity
| 09:54 AM | comments (x) | trackback (x) |

TOP